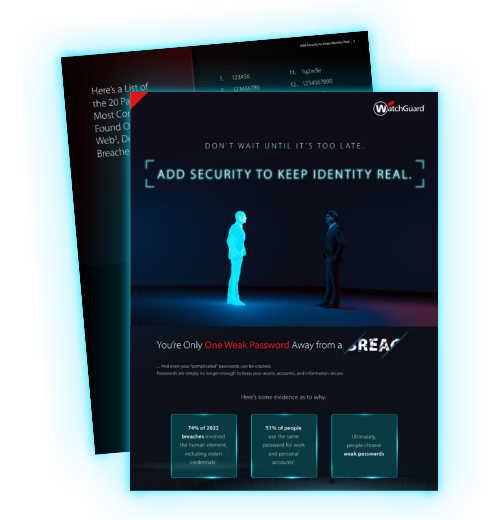 AuthPoint Total Identity Security includes all the following products.
AuthPoint MFA

Deploy a complete multi-factor authentication solution with single sign-on (SSO) and risk-based authentication that's easy to manage and use. AuthPoint MFA service is also available for purchase separately.

Dark Web Monitor

Get notified when compromised credentials from monitored domains are found on the dark web and published to credentials databases.

Corporate Password Manager

Improve password quality, reduce resets, and mitigate risk from shared or stolen passwords. Our Corporate Password Manager creates strong, complex passwords and provides the enforcement controls and shared vaults that businesses need.
Keep identities real and protect your business on with one comprehensive MFA solution.
How Does AuthPoint Total Identity Security Help?
AuthPoint MFA is a multi-factor authentication (MFA) service that helps companies keep their assets, information, and user identities secure. It works by requiring users to use 2+ authentication factors to log in, rather than relying on a password alone. Additionally, Total Identity Security includes our Corporate Password Manager and Dark Web Monitor service. You benefit with:
Multiple layers of authentication
Companies can significantly reduce the risk of having their accounts hacked. If a hacker gets hold of an employee's password, there is still another layer of security to help prevent the hack.
Management from WatchGuard Cloud – one interface for easy administration
The AuthPoint Total Identity Security products are managed entirely in the Cloud. This means that there's no expensive hardware to deploy and no software to update.
Happy users and streamlined adoption
Users approve or deny logins with a single touch on the AuthPoint mobile app. Once they've logged in, users can enjoy single sign-on (SSO) for fast access to their applications and environments. Even better, the Corporate Password Manager is available from the same AuthPoint app and can be used for both business and personal passwords.
A solution built for businesses
Unlike 2FA and password managers built for consumer use, AuthPoint was designed to address corporate use cases. For example, it authenticates users at Windows/macOS startup, including both online and offline access, meaning users can securely log in even if accessing their account from an airplane.
Powerful protection is available to you at less than the price of your morning cappuccino
Would you bet your business on the strength of every employee's password? Keep identity real with AuthPoint. It's affordable, it's powerful, and it's easy to use.
Find The Resource You Need