WatchGuard Panda Endpoint Protection

Endpoint security is evolving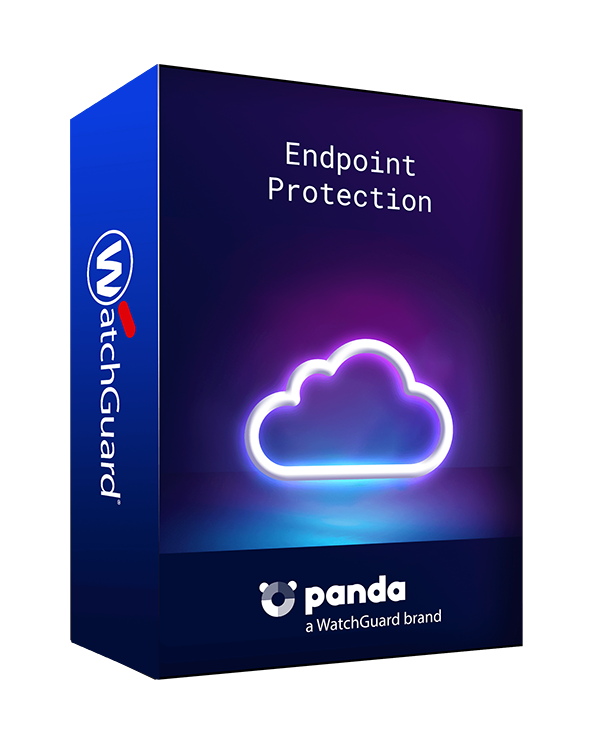 Modules are available: Panda Patch Management, Panda Full Encryption, Panda Adaptive Defense, Panda Adaptive Defense 360
WatchGuard Products
WatchGuard Panda Endpoint Protection - 1 Year
Panda Endpoint Protection - 1 Year - 1 to 10 users
#WGEPP011
Our Price: $34.50
Panda Endpoint Protection - 1 Year - 11 to 25 users
Minimum 11 quantity
#WGEPP021
Our Price: $31.50
Panda Endpoint Protection - 1 Year - 26 to 50 users
Minimum 26 quantity
#WGEPP031
Our Price: $30.00
Panda Endpoint Protection - 1 Year - 51 to 100 users
Minimum 51 quantity
#WGEPP041
Our Price: $26.00
Panda Endpoint Protection - 1 Year - 101 to 250 users
Minimum 101 quantity
#WGEPP051
Our Price: $23.50
Panda Endpoint Protection - 1 Year - 251 to 500 users
Minimum 251 quantity
#WGEPP061
Our Price: $22.50
Panda Endpoint Protection - 1 Year - 501 to 1000 users
Minimum 501 quantity
#WGEPP071
Our Price: $19.00
Panda Endpoint Protection - 1 Year - 1001 to 3000 users
Minimum 1001 quantity
#WGEPP081
Our Price: $16.00
Panda Endpoint Protection - 1 Year - 3000+ users
Minimum 3000 quantity
#WGEPP091
Our Price: $12.50
WatchGuard Panda Endpoint Protection - 3 Year
Panda Endpoint Protection - 3 Year - 1 to 10 users
#WGEPP013
Our Price: $82.50
Panda Endpoint Protection - 3 Year - 11 to 25 users
Minimum 11 quantity
#WGEPP023
Our Price: $76.00
Panda Endpoint Protection - 3 Year - 26 to 50 users
Minimum 26 quantity
#WGEPP033
Our Price: $72.00
Panda Endpoint Protection - 3 Year - 51 to 100 users
Minimum 51 quantity
#WGEPP043
Our Price: $62.50
Panda Endpoint Protection - 3 Year - 101 to 250 users
Minimum 101 quantity
#WGEPP053
Our Price: $56.00
Panda Endpoint Protection - 3 Year - 251 to 500 users
Minimum 251 quantity
#WGEPP063
Our Price: $53.50
Panda Endpoint Protection - 3 Year - 501 to 1000 users
Minimum 501 quantity
#WGEPP073
Our Price: $45.50
Panda Endpoint Protection - 3 Year - 1001 to 3000 users
Minimum 1001 quantity
#WGEPP083
Our Price: $38.00
Panda Endpoint Protection - 3 Year - 3000+ users
Minimum 3000 quantity
#WGEPP093
Our Price: $29.50
Click here to jump to more pricing!
Overview:
EVOLUTION OF ENTERPRISE IT ENVIRONMENTS
Over the last few years, the evolution of technology, along with the widespread use of the Internet, mobile devices, and Cloudbased storage and apps, have all led to a real revolution in the corporate environment. This revolution, however, isn't without risks. While these advantages are a boost for enterprises, these same advantages are also leveraged by cyber criminals.
In fact, in 2020 over 350,000 new malicious programs are being registered every day. Hackers are targeting vulnerable endpoints, where enterprises store their most valuable assets. The reason? As is so often the case, for economic gain. Malware and ransomware have become some of the most prevalent threats, although paradoxically, the direct costs are not the main problem — rather, it is the downtime they cause. This is forcing enterprises to adopt measures to improve their security posture.
PROTECT YOUR COMPANY AGAINST MALWARE AND RANSOMWARE
The increasing exposure of companies to new types of malware and threats endangers their security posture, requiring new approaches to help reduce the impact of possible attacks.
Panda Endpoint Protection is an effective Cloud-native security solution for desktops, laptops and servers. It centrally manages the security of endpoints, both inside and outside the corporate network.
It includes a set of EPP technologies to prevent malware, ransomware and the latest threats. One of these technologies checks in real time the Panda Threat Intelligence, a huge repository being fed by the latest machine-learning algorithms, to detect malicious attacks faster.
Moreover, there is no need to maintain hardware and software. Its lightweight agent has no impact on endpoint performance, simplifying security management and increasing operational efficiency.
---
Pricing Notes:
Pricing and product availability subject to change without notice.
WatchGuard Products
WatchGuard Panda Endpoint Protection - 1 Year
Panda Endpoint Protection - 1 Year - 1 to 10 users
#WGEPP011
Our Price: $34.50
Panda Endpoint Protection - 1 Year - 11 to 25 users
Minimum 11 quantity
#WGEPP021
Our Price: $31.50
Panda Endpoint Protection - 1 Year - 26 to 50 users
Minimum 26 quantity
#WGEPP031
Our Price: $30.00
Panda Endpoint Protection - 1 Year - 51 to 100 users
Minimum 51 quantity
#WGEPP041
Our Price: $26.00
Panda Endpoint Protection - 1 Year - 101 to 250 users
Minimum 101 quantity
#WGEPP051
Our Price: $23.50
Panda Endpoint Protection - 1 Year - 251 to 500 users
Minimum 251 quantity
#WGEPP061
Our Price: $22.50
Panda Endpoint Protection - 1 Year - 501 to 1000 users
Minimum 501 quantity
#WGEPP071
Our Price: $19.00
Panda Endpoint Protection - 1 Year - 1001 to 3000 users
Minimum 1001 quantity
#WGEPP081
Our Price: $16.00
Panda Endpoint Protection - 1 Year - 3000+ users
Minimum 3000 quantity
#WGEPP091
Our Price: $12.50
WatchGuard Panda Endpoint Protection - 3 Year
Panda Endpoint Protection - 3 Year - 1 to 10 users
#WGEPP013
Our Price: $82.50
Panda Endpoint Protection - 3 Year - 11 to 25 users
Minimum 11 quantity
#WGEPP023
Our Price: $76.00
Panda Endpoint Protection - 3 Year - 26 to 50 users
Minimum 26 quantity
#WGEPP033
Our Price: $72.00
Panda Endpoint Protection - 3 Year - 51 to 100 users
Minimum 51 quantity
#WGEPP043
Our Price: $62.50
Panda Endpoint Protection - 3 Year - 101 to 250 users
Minimum 101 quantity
#WGEPP053
Our Price: $56.00
Panda Endpoint Protection - 3 Year - 251 to 500 users
Minimum 251 quantity
#WGEPP063
Our Price: $53.50
Panda Endpoint Protection - 3 Year - 501 to 1000 users
Minimum 501 quantity
#WGEPP073
Our Price: $45.50
Panda Endpoint Protection - 3 Year - 1001 to 3000 users
Minimum 1001 quantity
#WGEPP083
Our Price: $38.00
Panda Endpoint Protection - 3 Year - 3000+ users
Minimum 3000 quantity
#WGEPP093
Our Price: $29.50
Panda Adaptive Defense - 1 Year
Panda Adaptive Defense - 1 Year - 1 to 50 users
#WGPAD011
Our Price: $53.50
Panda Adaptive Defense - 1 Year - 51 to 100 users
Minimum 51 quantity
#WGPAD021
Our Price: $48.50
Panda Adaptive Defense - 1 Year - 101 to 500 users
Minimum 101 quantity
#WGPAD031
Our Price: $44.50
Panda Adaptive Defense - 1 Year - 501 to 1000 users
Minimum 501 quantity
#WGPAD041
Our Price: $38.50
Panda Adaptive Defense - 1 Year - 1001 to 3000 users
Minimum 1001 quantity
#WGPAD051
Our Price: $31.50
Panda Adaptive Defense - 1 Year - 3001 to 5000 users
Minimum 3001 quantity
#WGPAD061
Our Price: $25.50
Panda Adaptive Defense - 1 Year - 5001 to 10000 users
Minimum 5001 quantity
#WGPAD071
Our Price: $20.50
Panda Adaptive Defense - 1 Year - 10001 to 1000000 users
Minimum 10001 quantity
#WGPAD081
Our Price: $16.00
Panda Adaptive Defense - 3 Years
Panda Adaptive Defense - 3 Year - 1 to 50 users
#WGPAD013
Our Price: $128.50
Panda Adaptive Defense - 3 Year - 51 to 100 users
Minimum 51 quantity
#WGPAD023
Our Price: $117.00
Panda Adaptive Defense - 3 Year - 101 to 500 users
Minimum 101 quantity
#WGPAD033
Our Price: $107.00
Panda Adaptive Defense - 3 Year - 501 to 1000 users
Minimum 501 quantity
#WGPAD043
Our Price: $92.50
Panda Adaptive Defense - 3 Year - 1001 to 3000 users
Minimum 1001quantity
#WGPAD053
Our Price: $75.50
Panda Adaptive Defense - 3 Year - 3001 to 5000 users
Minimum 3001 quantity
#WGPAD063
Our Price: $61.00
Panda Adaptive Defense - 3 Year - 5001 to 10000 users
Minimum 5001 quantity
#WGPAD073
Our Price: $48.50
Panda Adaptive Defense - 3 Year - 10001 to 1000000 users
Minimum 10001 quantity
#WGPAD083
Our Price: $39.00
WatchGuard Panda Adaptive Defense 360 - 1 to 50 licenses
Panda Adaptive Defense 360 - 1 Year - 1 to 50 licenses
#WGAD3011
Our Price: $69.00
Panda Adaptive Defense 360 - 3 Year - 1 to 50 licenses
#WGAD3013
Our Price: $165.50
WatchGuard Panda Adaptive Defense 360 - 51 to 100 licenses
Panda Adaptive Defense 360 - 1 Year - 51 to 100 licenses
Minimum 51 quantity
#WGAD3021
Our Price: $61.00
Panda Adaptive Defense 360 - 3 Year - 51 to 100 licenses
Minimum 51 quantity
#WGAD3023
Our Price: $146.00
WatchGuard Panda Adaptive Defense 360 - 101 to 500 licenses
Panda Adaptive Defense 360 - 1 Year - 101 to 500 licenses
Minimum 101 quantity
#WGAD3031
Our Price: $53.00
Panda Adaptive Defense 360 - 3 Year - 101 to 500 licenses
Minimum 101 quantity
#WGAD3033
Our Price: $126.50
WatchGuard Panda Adaptive Defense 360 - 501 to 1000 licenses
Panda Adaptive Defense 360 - 1 Year - 501 to 1000 licenses
Minimum 501 quantity
#WGAD3041
Our Price: $44.50
Panda Adaptive Defense 360 - 3 Year - 501 to 1000 licenses
Minimum 501 quantity
#WGAD3043
Our Price: $107.00
WatchGuard Panda Patch Management - 1 Year
Panda Patch Management - 1 Year - 1 to 10 users
#WGPAT011
Our Price: $24.00
Panda Patch Management - 1 Year - 11 to 25 users
Minimum 11 quantity
#WGPAT021
Our Price: $23.00
Panda Patch Management - 1 Year - 26 to 50 users
Minimum 26 quantity
#WGPAT031
Our Price: $21.50
Panda Patch Management - 1 Year - 51 to 100 users
Minimum 51 quantity
#WGPAT041
Our Price: $20.00
Panda Patch Management - 1 Year - 101 to 250 users
Minimum 101 quantity
#WGPAT051
Our Price: $18.00
Panda Patch Management - 1 Year - 251 to 500 users
Minimum 251 quantity
#WGPAT061
Our Price: $15.50
Panda Patch Management - 1 Year - 501 to 1000 users
Minimum 501 quantity
#WGPAT071
Our Price: $13.50
Panda Patch Management - 1 Year - 1001 to 3000 users
Minimum 1001 quantity
#WGPAT081
Our Price: $11.00
Panda Patch Management - 1 Year - 3000+ users
Minimum 3001 quantity
#WGPAT091
Our Price: $9.00
WatchGuard Panda Patch Management - 3 Year
Panda Patch Management - 3 Year - 1 to 10 users
#WGPAT013
Our Price: $58.00
Panda Patch Management - 3 Year - 11 to 25 users
Minimum 11 quantity
#WGPAT023
Our Price: $55.00
Panda Patch Management - 3 Year - 26 to 50 users
Minimum 26 quantity
#WGPAT033
Our Price: $52.00
Panda Patch Management - 3 Year - 51 to 100 users
Minimum 51 quantity
#WGPAT043
Our Price: $47.50
Panda Patch Management - 3 Year - 101 to 250 users
Minimum 101 quantity
#WGPAT053
Our Price: $43.00
Panda Patch Management - 3 Year - 251 to 500 users
Minimum 251 quantity
#WGPAT063
Our Price: $38.00
Panda Patch Management - 3 Year - 501 to 1000 users
Minimum 501 quantity
#WGPAT073
Our Price: $32.50
Panda Patch Management - 3 Year - 1001 to 3000 users
Minimum 1001 quantity
#WGPAT083
Our Price: $27.00
Panda Patch Management - 3 Year - 3000+ users
Minimum 3001 quantity
#WGPAT093
Our Price: $21.50
WatchGuard Panda Full Encryption - 1 Year
Panda Full Encryption - 1 Year - 1 to 10 users
#WGENC011
Our Price: $18.00
Panda Full Encryption - 1 Year - 11 to 25 users
Minimum 11 quantity
#WGENC021
Our Price: $17.00
Panda Full Encryption - 1 Year - 26 to 50 users
Minimum 26 quantity
#WGENC031
Our Price: $16.00
Panda Full Encryption - 1 Year - 51 to 100 users
Minimum 51 quantity
#WGENC041
Our Price: $15.00
Panda Full Encryption - 1 Year - 101 to 250 users
Minimum 101 quantity
#WGENC051
Our Price: $13.50
Panda Full Encryption - 1 Year - 251 to 500 users
Minimum 251 quantity
#WGENC061
Our Price: $12.00
Panda Full Encryption - 1 Year - 501 to 1000 users
Minimum 501 quantity
#WGENC071
Our Price: $10.00
Panda Full Encryption - 1 Year - 1001 to 3000 users
Minimum 1001 quantity
#WGENC081
Our Price: $8.50
Panda Full Encryption - 1 Year - 3000+ users
Minimum 3001 quantity
#WGENC091
Our Price: $6.50
WatchGuard Panda Full Encryption - 3 Year
Panda Full Encryption - 3 Year - 1 to 10 users
#WGENC013
Our Price: $43.50
Panda Full Encryption - 3 Year - 11 to 25 users
Minimum 11 quantity
#WGENC023
Our Price: $41.50
Panda Full Encryption - 3 Year - 26 to 50 users
Minimum 26 quantity
#WGENC033
Our Price: $39.00
Panda Full Encryption - 3 Year - 51 to 100 users
Minimum 51 quantity
#WGENC043
Our Price: $35.50
Panda Full Encryption - 3 Year - 101 to 250 users
Minimum 101 quantity
#WGENC053
Our Price: $32.00
Panda Full Encryption - 3 Year - 251 to 500 users
Minimum 251 quantity
#WGENC063
Our Price: $28.50
Panda Full Encryption - 3 Year - 501 to 1000 users
Minimum 501 quantity
#WGENC073
Our Price: $24.50
Panda Full Encryption - 3 Year - 1001 to 3000 users
Minimum 1001 quantity
#WGENC083
Our Price: $20.00
Panda Full Encryption - 3 Year - 3000+ users
Minimum 3001 quantity
#WGENC093
Our Price: $16.00