WatchGuard Panda Fusion 360

Security, Management and Support from the Cloud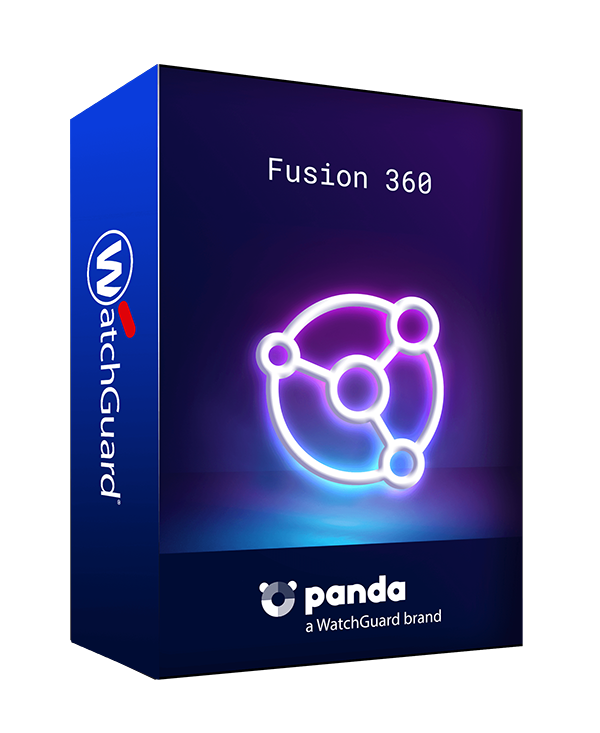 WatchGuard Products
WatchGuard Panda Fusion 360 - 1 Year
Panda Fusion 360 - 1 Year - 1 to 50 users
#WGFU3011
Our Price: $86.00
Panda Fusion 360 - 1 Year - 51 to 100 users
#WGFU3021
Our Price: $76.00
Panda Fusion 360 - 1 Year - 101 to 500 users
#WGFU3031
Our Price: $66.00
Panda Fusion 360 - 1 Year - 501 to 1000 users
#WGFU3041
Our Price: $55.50
Panda Fusion 360 - 1 Year - 1001 to 3000 users
#WGFU3051
Our Price: $46.50
Panda Fusion 360 - 1 Year - 3001 to 5000 users
#WGFU3061
Our Price: $37.50
Panda Fusion 360 - 1 Year - 5000 to 10000 users
#WGFU3071
Our Price: $29.50
Panda Fusion 360 - 1 Year - 10000+ users
#WGFU3081
Our Price: $22.00
WatchGuard Panda Fusion 360 - 3 Year
Panda Fusion 360 - 3 Year - 1 to 50 users
#WGFU3013
Our Price: $206.50
Panda Fusion 360 - 3 Year - 51 to 100 users
#WGFU3023
Our Price: $182.50
Panda Fusion 360 - 3 Year - 101 to 500 users
#WGFU3033
Our Price: $158.00
Panda Fusion 360 - 3 Year - 501 to 1000 users
#WGFU3043
Our Price: $133.50
Panda Fusion 360 - 3 Year - 1001 to 3000 users
#WGFU3053
Our Price: $112.00
Panda Fusion 360 - 3 Year - 3001 to 5000 users
#WGFU3063
Our Price: $90.00
Panda Fusion 360 - 3 Year - 5000 to 10000 users
#WGFU3073
Our Price: $70.50
Panda Fusion 360 - 3 Year - 10000+ users
#WGFU3083
Our Price: $53.50
Click here to jump to more pricing!
Overview:
SIMPLE, CENTRALIZED MANAGEMENT AND SECURITY FOR ALL YOUR DEVICES
Panda Fusion 360 is a holistic solution that provides automated advanced security, centralized IT management, and remote support for all workstations, laptops and servers on the corporate network, including mobile devices and tablets. As it is a Cloud solution, it is deployed rapidly without the need for maintenance or costly investments in IT infrastructure.
Panda Fusion 360 combines the best of two worlds. The advanced security provided by Panda Adaptive Defense 360 against all types of cyber threats, and the integrated management, monitoring and remote support capabilities delivered by Panda Systems Management.
Automated prevention, detection, containment and response against any present or future advanced threats, zero day malware, ransomware, phishing, memory exploits and malwareless attacks.
Cost savings thanks to centralized control and automation of infrastructure management tasks.
The best support experience with proactive troubleshooting and remote, unobtrusive access to devices inside and outside the corporate network.
PANDA SYSTEM MANAGEMENT
Mobility, processing and storage have revolutionized corporate environments, and organizations need tools that can help them improve efficiency and productivity. Panda Systems Management is a solution designed to manage, monitor and support all your organization's devices, whether they are in the office or on the road.
---
Pricing Notes:
Pricing and product availability subject to change without notice.
WatchGuard Products
WatchGuard Panda Fusion 360 - 1 Year
Panda Fusion 360 - 1 Year - 1 to 50 users
#WGFU3011
Our Price: $86.00
Panda Fusion 360 - 1 Year - 51 to 100 users
#WGFU3021
Our Price: $76.00
Panda Fusion 360 - 1 Year - 101 to 500 users
#WGFU3031
Our Price: $66.00
Panda Fusion 360 - 1 Year - 501 to 1000 users
#WGFU3041
Our Price: $55.50
Panda Fusion 360 - 1 Year - 1001 to 3000 users
#WGFU3051
Our Price: $46.50
Panda Fusion 360 - 1 Year - 3001 to 5000 users
#WGFU3061
Our Price: $37.50
Panda Fusion 360 - 1 Year - 5000 to 10000 users
#WGFU3071
Our Price: $29.50
Panda Fusion 360 - 1 Year - 10000+ users
#WGFU3081
Our Price: $22.00
WatchGuard Panda Fusion 360 - 3 Year
Panda Fusion 360 - 3 Year - 1 to 50 users
#WGFU3013
Our Price: $206.50
Panda Fusion 360 - 3 Year - 51 to 100 users
#WGFU3023
Our Price: $182.50
Panda Fusion 360 - 3 Year - 101 to 500 users
#WGFU3033
Our Price: $158.00
Panda Fusion 360 - 3 Year - 501 to 1000 users
#WGFU3043
Our Price: $133.50
Panda Fusion 360 - 3 Year - 1001 to 3000 users
#WGFU3053
Our Price: $112.00
Panda Fusion 360 - 3 Year - 3001 to 5000 users
#WGFU3063
Our Price: $90.00
Panda Fusion 360 - 3 Year - 5000 to 10000 users
#WGFU3073
Our Price: $70.50
Panda Fusion 360 - 3 Year - 10000+ users
#WGFU3083
Our Price: $53.50