WatchGuard XTM 23

Extensible Threat Management for Growing Businesses

Customers Please Note - WatchGuard has announced an end of sale (EOS) for the XTM 21, 22 and 23 series on June 30, 2012. Orders will be accepted until stock is depleted. We encourage all customers to purchase the new XTM 25 and XTM26 Series that include a faster CPU at the same price!

WatchGuard Product
XTM 23 Trade Up Program - Security Bundle - More Details
XTM 23 Series Security Bundle, 1-Year
* Includes Gateway AV/IPS, SpamBlocker, WebBlocker, LiveSecurity, Application Control and Reputation Enabled Defense
* Special Pricing with Trade Up Program
#WG023061
List Price: $985.00
Our Price: $689.00
More WatchGuard options and pricing below, click here

WatchGuard XTM 23 Series Overview:
WatchGuard® XTM 2 Series appliances deliver a new class of performance driven security. Network protection is stronger than ever, with full HTTPS inspection and VoIP support. All models have three 1-Gigabit Ethernet ports for faster link speeds, and optional wireless capabilities include dual-band 802.11n technology for greater wireless speed and responsiveness. An XTM 2 Series appliance can be used as a stand-alone security solution for a small business, and makes an ideal endpoint for connecting a secure VPN tunnel back to a WatchGuard XTM or WatchGuard Firebox network.
With a WatchGuard® XTM 2 Series appliance, your network is:
Secure:
Application-layer content inspection recognizes & blocks threats that stateful packet firewalls cannot detect.
Wide-ranging proxy protection comes from robust security on HTTP, HTTPS, FTP, SMTP, POP3, DNS, TCP/UDP.
Security subscriptions boost protection in critical attack areas for complete unified threat management.
Includes Skype blocking – the first of a new generation of built-in application-blocking capabilities.
Delivers integrated SSL VPN for simple, anywhere-anytime network access.
Efficient:
Scriptable CLI supports interoperability and allows easy integration into existing infrastructure for quick, direct connection.
Interactive, real-time monitoring and reporting – at no extra charge – give an unprecedented view into network security activity, so you can take immediate preventive or corrective actions.
Intuitive management console centralizes configurations and streamlines remote management.
Three 1-GbE interfaces allow faster link speeds, which is particularly useful for trusted LAN.
Role-based access control (RBAC) allows top administrator to create custom roles for granular control.
Drag-and-drop Branch Office VPN setup – three clicks and your remote office is connected.
Flexible:
Call setup security for VoIP means you don't need to "wire around the firewall" to take advantage of the big cost savings that VoIP can generate.
WAN and VPN failover increase performance, redundancy, and reliability.
Multiple VPN choices deliver flexibility in remote access.
Includes PPPoE options for modem setup and scheduled redial for predictable PPPoE session restarts where regional providers require them, without the disruption of a full appliance reboot.
Advanced networking features, like transparent bridge mode and multicast over VPN, allow you to add security without needing to change existing network infrastructure.
Wired or Wireless - Your Choice:
Wireless models include optional dual-band 802.11n technology for much more responsive wireless network connection and expanded range. Allows users to access 2.4 GHz or less crowded 5GHz band.
Three distinct wireless security zones (VAPs) give administrators precise control over Internet access privileges for different user groups.
Wireless guest services segment the Internet for customers/guests.
Capable:
Multi-layered, interlocking security protects the network.
Secure remote connectivity keeps mobile workforce productive.
Intuitive, centralized management gives you the control you need to manage efficiently.
Choice of wired or wireless models to suit your specific business requirements.
Security and reporting tools support industry and regulatory compliance.
Features:
Fireware XTM included
Our newest Fireware XTM OS increases security and networking capabilities. When you're ready, it's easy to upgrade to the Pro version of the OS for even more features.

Faster, safe web surfing
Add a simple subscription to Reputation Enabled Defense to your XTM solution and your organization will have faster web performance and even stronger security – with no additional hardware to buy.

Multiple VPN choices
Have flexible remote access options, including IPSec, SSL, and support for iOS devices such as iPhone, iPad, and iPod touch.

Affordable security for small business
Comprehensive network protection at a digestible price point — your network and your bottom line should be pretty happy about that.

3 ways to manage your appliance
Now you have the power to choose how you manage your WatchGuard appliance including, WatchGuard System Manager, the command line interface, and a web UI for access from anywhere, anytime.

Hardware-less upgrades
We won't make you buy new hardware as your security demands grow. You can use simple software license keys to add functionality and increase protection as your network requires it.

Reporting made easy
Monitoring and reporting tools, included at no extra cost, support compliance, with drill-down functions that make it easy to pinpoint specific activities.

Application Control
Control the use of Web 2.0 and other applications on your network for tighter security, better use of bandwidth, and greater productivity.

Green security
Our firewalls are designed with efficiency in mind, consuming very little energy. Compare our power consumption to other security products and see how WatchGuard can make your data center more energy efficient. Green up your network with WatchGuard.
Detailed Specifications:


WatchGuard Model
XTM 21 / 21-W
XTM 22 / 22-W
XTM 23 / 23-W
Throughput & Connections
Firewall Throughput*
110 Mbps
150 Mbps
195 Mbps
VPN Throughput*
35 Mbps
55 Mbps
55 Mbps
XTM Throughput*
18 Mbps
30 Mbps
40 Mbps
Interfaces 10/100
3 copper
3 copper
3 copper
Interfaces 10/100/1000
3 copper
3 copper
3 copper
I/O Interfaces
2 USB
2 USB
2 USB
Nodes Supported (LAN IPs)
Unrestricted
Unrestricted
Unrestricted
Concurrent Connections
10,000
20,000
30,000
Local user auth. DB limit
100
200
200
Model Upgradeable
Yes
Yes
No
Wireless Available**
802.11a/b/g/n
802.11a/b/g/n
802.11a/b/g/n
VPN Tunnels (included / Maximum)
Branch Office VPN
5
20
50
Mobile VPN IPSec
1 / 11
5 / 25
5 / 55
Mobile VPN SSL
1 / 11
1 / 25
55 / 55
Security Features
Firewall
Stateful packet inspection, deep application inspection, application proxies
Application Proxies
HTTP, HTTPS, SMTP, FTP, DNS, TCP, POP3
Threat Protection
Blocks spyware, DoS attacks, fragmented & malformed packets, blended threats, and more
VoIP
H.323. SIP, call setup and session security
Security Subscriptions
Application Control, WebBlocker, spamBlocker, Gateway AntiVirus, Intrusion Prevention Service, Reputation Enabled Defense
VPN & Authentication
Encryption
DES, 3DES, AES 128-, 192-, 256-bit
IPSec
SHA-1, IKE pre-shared key, 3rd party cert
VPN Failover
Yes
SSL
Thin client, Web exchange
PPTP
Server and Passthrough
Single Sign-on
Transparent Active Directory Authentication
XAUTH
Radius, LDAP, Windows Active Directory
Other user authentication
VASCO, RSA SecurID, web-based, local 802.1X for XTM 2 Series wireless
Management
Management Platform
WatchGuard System Manager (WSM)
Alarms and Notifications
SNMP v2/v3, Email, Management System Alert
Server Support
Logging and Reporting with Server Health status, Quarantine, WebBlocker, Management
Web UI
Supports Windows, Mac, Linux, and Solaris OS
Command Line Interface
Includes direct connect and scripting
Standard Networking
QoS
8 priority queues, DiffServ, modified strict queuing
IP Address Assignment
Static, DynDNS, PPPoE, DHCP (server, client, relay)
NAT
Static, dynamic, 1:1, IPSec traversal, policy-based
Support and Maintenance
LiveSecurity Service
Hardware warranty, 12/5 technical support with 4-hour response time, software updates, threat alerts
Multi-year subscriptions available
Certifications
Security
ICSA VPN, FIPS 140-2 (EAL4+ in progress)
Safety
NRTL/C, CB
Network
IPv6 Ready Gold (routing)
Hazardous Substance Control
WEEE, RoHS, REACH
Dimensions and Power
Product Dimensions - Wired
6.1" x 7.5" x 1.25" (15.5 x 19.0 x 3.2 cm)
Product Dimensions - Wireless
(antennae up)
7.75" x 10.75" x 5" (19.7 x 27.3 x 12.7 cm)
Shipping Dimensions
10.75" x 13.25" x 3.4" (27.3 x 33.7 x 8.6 cm)
Shipping Weight - Wired
3.2 lbs (1.45 Kg)
Shipping Weight - Wireless
3.6 lbs (1.6 Kg)
AC Power
100-240 VAC Autosensing
Power Consumption - Wired
U.S. 23.33 Watts (80 BTU/hr)
Power Consumption - Wireless
U.S. 24.0 Watts (82 BTU/hr)
Rack Mountable
No (wall mount bracket included)
Environment
Operating
Storage
Temperature
32° F to 104° F (0° C to 40° C)
-40° F to 158° F (-40° C to 70° C)
Relative Humidty
10% to 85% non-condensing
10% to 95% non-condensing
Altitude
0 to 9,843 ft @ 95° F (3,000 m @ 35° C)
0 to 15,000 ft @ 95° F (4,570 m @ 35° C)
Wired
Wireless
MTBF
129,955 hours @ 104° F (40° C )
103,612 hours @ 104° F (40° C )

Powered by Fireware® XTM and XTM Pro
XTM 2 Series appliances can be upgraded to the Pro version of the Fireware XTM operating system with a simple License purchase***. Advanced networking features include:
Networking Features
Fireware XTM
Fireware XTM Pro
Routing
Static
Dynamic (BGP4, OSPF,RIP v1/2), Policy-based
SSL
1 SSL tunnel available
Maximum number of SSL tunnels available
VLAN support
20
50
Other Features
Port Independence Transparent/drop-in mode
Multi-WAN failover
Multi-WAN load balancing
*Throughput rates will vary based on environment and configuration
** All XTM 2 Series appliances are available in wireless versions under the model numbers XTM 21-W, XTM 22-W, XTM 23-W, XTM-25-W, and XTM-26-W
*** The XTM-23 and XTM-23-W Series ship with Fireware XTM Pro series installed.
Compare Models:


WatchGuard Model
XTM 21/21-W
XTM 22/22-W
XTM 23/23-W
XTM 25/25-W
XTM 26/26-W
Ideal For
Remote offices, small businesses that need and easy-to-manage solution at a great price. Available in wired and wireless models.
Remote offices, small business, wireless hotspots that want an affordable, all-in-one security solution. Available in wired and wireless models.
Hardware
Model Upgradeable
N/A
N/A
Interfaces
3: 10/100/1000 and 3:10/100
3: 10/100/1000 and 3:10/100
3: 10/100/1000 and 3:10/100
5 1GbE
5 1GbE
Security
Application Proxies
HTTP, HTTPS, SMTP, FTP, DNS, TCP, POP3, SIP, H.323, TFTP
Intrusion Prevention (DOS, DDOS, PAD, port scanning, spoofing attacks, address space probes, and more)
Wireless Models Only
802.11b/g/n, WPA, WPA2, WEP, Wireless Guest Services
User Authentication with transparent Windows authentication
Performance
Firewall Throughput**
110 Mbps
150 Mbps
195 Mbps
110 Mbps
350 Mbps
VPN Throughput**
35 Mbps
55 Mbps
55 Mbps
35 Mbps
55 Mbps
XTM Throughput**
18 Mbps
40 Mbps
40 Mbps
20 Mbps
30 Mbps
Concurrent Sessions*
(bi-directional)
10,000
20,000
30,000
10,000
30,000
VPN Tunnels
Branch Office VPN Tunnels (Max.)
5
20
50
10
40
Mobile VPN with SSL (Incl/Max)
1 / 11
5 / 25
55
1 / 11
1 / 25
Mobile VPN with IPSec Client Licenses (Bundled)
1
5
5
5
5
Mobile VPN with IPSec Tunnels (Max.)
11
25
55
10
40
VPN Authentication
Management
Mobile VPN IPSec (incl/max)
1-device WatchGuard System Manager license included with purchase.
Networking Features
Dynamic NAT
Static NAT
One to One NAT
VLAN
20, upgradeable to 50 with Fireware® XTM Pro upgrade
20, upgradeable to 50 with Fireware® XTM Pro upgrade
50
20, upgradeable to 50 with Fireware® XTM Pro upgrade
20, upgradeable to 50 with Fireware® XTM Pro upgrade
Policy-Based Routing
Optional with Fireware XTM Pro
Optional with Fireware XTM Pro
Optional with Fireware XTM Pro
Optional with Fireware XTM Pro
WAN Failover
Optional with Fireware XTM Pro
Optional with Fireware XTM Pro
Optional with Fireware XTM Pro
Optional with Fireware XTM Pro
Multi-WAN Load Balancing
Optional with Fireware XTM Pro
Optional with Fireware XTM Pro
Optional with Fireware XTM Pro
Optional with Fireware XTM Pro
Server Load Balancing
N/A
N/A
N/A
N/A
N/A
Traffic Management/QoS
High Availability Active/Active or Active/Passive
N/A
N/A
N/A
N/A
N/A
Dynamic Routing
Optional with Fireware XTM Pro
Optional with Fireware XTM Pro
Optional with Fireware XTM Pro
Optional with Fireware XTM Pro
Optional with Fireware XTM Pro
VoIP (SIP and H.323)Support
Networking Features
Application Control
Optional
Optional
Optional
Optional
Optional
Reputation Enabled Defense
Optional
Optional
Optional
Optional
Optional
spamBlocker with Virus Outbreak Detection
Optional
Optional
Optional
Optional
Optional
Gateway AntiVirus/ Intrusion Prevention Service (IPS)
Optional
Optional
Optional
Optional
Optional
WebBlocker with HTTPS URL filtering
Optional
Optional
Optional
Optional
Optional
LiveSecurity® Service
1-year and 3-year subscriptions available
*Concurrent sessions here represent the number of bi-directional connections.
**Throughput rates will vary based on environment & configuration.
Product Views: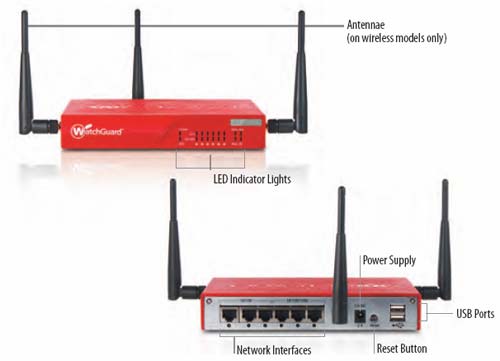 Options and Upgrades:
Turn your WatchGuard XTM security appliance into a complete threat management solution with a WatchGuard Security Suite.
Application Control
Application Control enables IT administrators to monitor and control access to web and business applications to enforce policy, and protect productivity and network bandwidth.

WebBlocker
WebBlocker content and URL filtering subscription helps eliminate legal liabilities resulting from inappropriate web surfing, while increasing employee productivity and protection from web-based attacks.

Gateway AntiVirus
Gateway AntiVirusis a fully integrated, signature-based security subscription that identifies and blocks known spyware, viruses, trojans, and blended threats in real time.

LiveSecurity Service
LiveSecurity Service, a high-value support and maintenance program that you activate online when you register your product. LiveSecurity delivers technical support, hardware warranty with advance hardware replacement, the latest software updates, and threat alerts.

Reputation Enabled Defense
Reputation Enabled Defense delivers a powerful, cloud-based URL reputation service that protects web users from malicious web pages, while dramatically improving web processing overhead.

spamBlocker
spamBlocker is the best in the industry at distinguishing legitimate communication from spam outbreaks in real time, blocking nearly 100% of unwanted emails and the viral payloads they carry.

Intrusion Prevention Service
Intrusion Prevention Serviceworks hand-in-hand with your WatchGuard firewall's application layer content inspection to provide real-time protection from threats, including SQL injections, cross-site scripting, and buffer overflows.
Documentation:

Download the WatchGuard XTM 2 Series Datasheet (PDF).
WatchGuard Product
XTM 23 Trade Up Program - Security Bundle - More Details
XTM 23 Series Security Bundle, 1-Year
* Includes Gateway AV/IPS, SpamBlocker, WebBlocker, LiveSecurity, Application Control and Reputation Enabled Defense
* Special Pricing with Trade Up Program
#WG023061
List Price: $985.00
Our Price: $689.00
XTM 23 Series Security Software Suites
XTM 23 Security Software Suite - 1 Year

#WG017703
List Price: $545.00
Our Price: $463.00
XTM 23 Security Software Suite - 2 Year

#WG017707
List Price: $980.00
Our Price: $833.00
XTM 23 Security Software Suite - 3 Year

#WG017709
List Price: $1,310.00
Our Price: $1,113.00
LiveSecurity
LiveSecurity Renewal for XTM 23 Series, 1-Year

#WG017701
Our Price: $180.00
LiveSecurity Renewal for XTM 23 Series, 2-Year

#WG017706
Our Price: $320.00
LiveSecurity Renewal for XTM 23 Series, 3-Year

#WG017708
Our Price: $430.00
LiveSecurity Service Reinstatement

#WG017734
Our Price: $75.00
XTM Remote Installation Service

#WG001101
Our Price: $595.00
WebBlocker Subscription
WebBlocker Subscription for XTM 23 Series, 1-Year

#WG017705
Our Price: $280.00
Gateway AntiVirus Subscription
Gateway AntiVirus Subscription for XTM 23 Series, 1-Year

#WG017704
Our Price: $280.00
SpamBlocker Subscription
SpamBlocker Subscription for XTM 23 Series, 1-Year

#WG017702
Our Price: $100.00
Intrusion Prevention Service
Intrusion Prevention Service for XTM 23 Series, 1-Year

#WG017699
Our Price: $280.00
Reputation Enabled Defense
Reputation Enabled Defense for XTM 23 Series, 1-Year

#WG018524
Our Price: $280.00
Application Control
Application Control for XTM 23 Series, 1-Year

#WG018958
Our Price: $280.00
IPSec Mobile VPN Premium client powered by NCP Technology
Includes support for two-factor authentication, pre-login to Windows domains, FIPS 140-2 conformant IPsec algorithms, and a secure personal firewall
XTM IPSec Mobile VPN Client for Windows

#WG019884
List Price: $85.00
Our Price: $77.00
XTM IPSec Mobile VPN Client for Mac

#WG019961
List Price: $85.00
Our Price: $77.00
Mobile VPN (IPSec) License Pack for XTM Series
Upgrades from the default number of mobile VPN users on XTM 2, 5, and 8 Series (IPSec not SSL)
Mobile VPN (IPSec) License Pack for XTM Series - 5 Users

#WG018431
List Price: $275.00
Our Price: $255.00
Mobile VPN (IPSec) License Pack for XTM Series - 10 Users

#WG018432
List Price: $525.00
Our Price: $488.00
Mobile VPN (IPSec) License Pack for XTM Series - 20 Users

#WG018433
List Price: $795.00
Our Price: $739.00
Mobile VPN (IPSec) License Pack for XTM Series - 50 Users

#WG018434
List Price: $995.00
Our Price: $925.00
Accessories
Power Supply for XTM 2 Series
#WG8540
Our Price: $40.00
Wall Mount Bracket for XTM 2 Series
#WG8542
Our Price: $30.00