WatchGuard XCS Extensible Content Security Solutions

Stronger Security with Multi-Protocol Protection
Introducing XCS: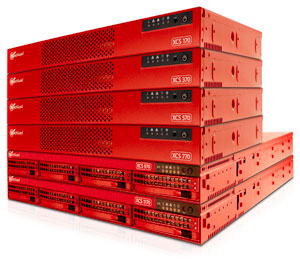 WatchGuard Extensible Content Security (XCS) solutions deliver the industry's best defense-in-depth security for email, web, and data loss prevention to provide an extensive risk management boundary. With six different models to choose from, XCS appliances meet the messaging security requirements of business of all sizes, including solutions to protect the world's most demanding email and web networks.
WatchGuard XCS appliances provide extensible content security for email and web applications. They deliver unprecedented protection and control of traffic entering and exiting your email and web networks. Protect your network's perimeter with a combination of defenses:
WatchGuard ReputationAuthority "in-the-cloud," real-time monitoring service to block over 98% of unwanted traffic and threats with 99.9% accuracy
Advanced Spam and Malware Prevention Engines for URL filtering on HTTP and HTTPS
Zero-Hour Threat Outbreak Response for the fastest response to new threats
Always-On Email Security so you never lose a message
Set-It-And-Forget-It Administration with the ability to apply a single policy to control traffic
Granular Reporting for visibility into security gaps and customizable reporting for audit requirements
WatchGuard XCS Appliances:

WatchGuard XCS 770R & 1170 Appliances

Complete Messaging Security & Data Loss Prevention
Large Enterprises & ISPs, Global 2000, Fortune 500 with 10,000 or more users
Designed with the most demanding messaging networks in mind, WatchGuard XCS 770 and 1170 XCS appliances are easy-to-use, unified email security, privacy, and compliance solutions. They protect against inbound email threats and control outbound information to prevent data loss. Your network has protection from spam, viruses, malware, blended threats, spyware, phishing, and network attacks, as well as having automated content security to control and stop data leakage. Centralized administration and reporting reduces costs and management requirements, and provides total visibility and control of incoming and outgoing email traffic.
WatchGuard XCS 570 Appliance

Inbound/Outbound Email Security & Data Loss Prevention
Small to Mid-Sized Businesses - up to 1,000 users
Businesses concerned with what might be entering and exiting their email networks can rely on the dependability of the WatchGuard XCS 570 appliance to protect against email threats and secure outbound content. An affordable and easy-to-use email security, privacy, and compliance solution, the XCS 570 is designed to protect email servers from spam, virus, spoofing, phishing and spyware attacks, and ensures the confidentiality and privacy of outbound email communications with its powerful data loss prevention engine. Centralized administration and reporting provides total visibility and control of all email traffic for low total cost of ownership and ease of use.
WatchGuard XCS 280 & 580 Appliances

Cost-Effective Email and Web Security
Small to Mid-Sized Businesses - up to 1,000 users
Small to mid-sized businesses don't need to pay high prices for powerful email security. WatchGuard XCS 280 and 580 appliances are affordable, complete email security solutions that defend against inbound threats including viruses, spam, blended threats, phishing, spyware and network attacks. Block 98% of unwanted traffic at the perimeter and boost your email security and performance without breaking the bank.
WatchGuard XCS 170 & 370 Appliances

Cost-Effective Spam & Malware Protection
Small to Mid-Sized Businesses - up to 1,000 users
Looking for complete protection against spam, viruses, and malware without the hefty price? WatchGuard XCS 170 and 370 appliances offer the most advanced email security on the market for small to mid-sized businesses. Get powerful anti-spam and threat prevention in one easy-to-use appliance. This defense-in-depth approach delivers the highest spam blockage rate in the industry (more than 98% blocked with 99.9% accuracy) along with protection from viruses, blended threats, spoofing, phishing, and spyware. When your email servers only process legitimate, threat-free messages, you also conserve bandwidth and ensure the productivity of your employees.