WatchGuard Firebox X550e X Core e-Series Appliance

Robust UTM Solutions for Growing Businesses
Please note, the WatchGuard Firebox X550e has been replaced by the new XTM 5 & 8 Series. For all other options and renewals, please click here.
At a Glance:
Firebox® X Core™ e-Series unified threat management (UTM) solutions provide the best performance and most complete security in their class, integrating built-in zero day protection with robust security subscriptions for an unbeatable combination of network defense capabilities.
Powerful, yet easy to configure and manage, they integrate a powerful combination of application proxy firewall, VPN, intrusion prevention, gateway anti-virus, anti-spyware, anti-spam, and URL filtering into a single appliance for comprehensive defenses, reducing the time and cost associated with managing multiple point-solutions.
Multi-layered, interlocking security protects the network
Completely customizable to meet the unique needs of the growing SME
Includes intuitive, centralized management console, scriptable command line interface, and web UI, so you have maximum flexibility in administering your network
Secure remote connectivity keeps mobile workforce productive
Security and reporting tools support industry and regulatory compliance
Support for numerous VoIP options allows call traffic to pass through securely
Integrated SSL VPN provides simple, anywhere-anytime network access
Easily upgradeable to Fireware® XTM Pro advanced OS as business requirements change for the flexibility, redundancy, and reliability that demanding networks require
Integrated, upgradeable capabilities mean better value for your dollar
Global team of security experts are there when you need them
| | | | |
| --- | --- | --- | --- |
| Compare Core Models | X1250e | X750e | X550e |
| Firewall Throughput | 1,500 Mbps | 1,000 Mbps | 390 Mbps |
| VPN Throughput | 260 Mbps | 260 Mbps | 200 Mbps |
| Concurrent Sessions | 200,000 | 75,000 | 25,000 |
| Interfaces (10/100) | 0 | 8 | 4 |
| Interfaces (10/100/1000) | 8 | 0 | 0 |
| Branch Office VPN Tunnels | 600 | 100 | 45 |
| Mobile VPN Tunnels (incl./max. concurrent) | 400 | 50/100 | 25/75 |
| SSL VPN* Tunnels (incl./max. concurrent) | 1/500* | 1/300* | 1/75* |
| Users | 150-300 | 75-200 | 30-100 |
* Maximum SSL tunnels require Fireware® XTM Pro upgrade.
Business Case:
Application proxy firewall, full-featured VPN (both IPSec and SSL), intrusion prevention, URL filtering, spam blocking, anti-virus and anti-spyware capabilities are fully integrated to ensure your network is prepared to block any attack.
Multiple layers of anti-spyware defenses keep sensitive corporate data out of jeopardy and your company in line with stringent compliance standards
Protection for your remote workers is easier with the Core. It has the broadest range of remote access capabilities in its class, including IPSec and SSL VPN
Network administrators save time while gaining granular control and unprecedented visibility into the network using a single centralized management console
It's easy to increase capacity and networking/security capabilities as your business needs grow using a simple software license key – you save money because no new hardware is required
Firebox X Core is the acknowledged price-performance leader in firewall and anti-virus throughput in its class. Read the Network World review to see what this can mean for your network.
Not sure where to start? Give us a call
Options:
Make yours a UTM with our suite of security subscriptions:

Product View:
Front View: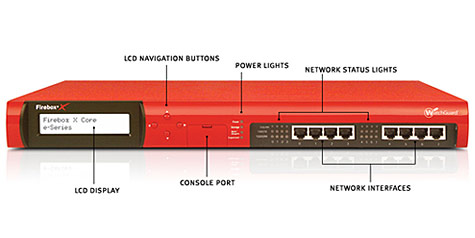 Back View: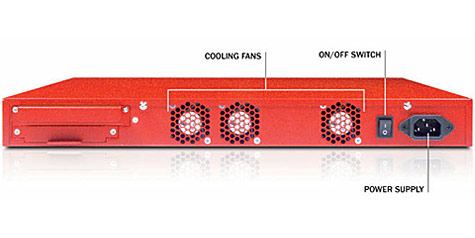 Technical Specifications:
Firebox X Core e-Series Product Comparison
Firebox® Model
Firebox® X1250e
Firebox® x750e
Firebox® X550e
Ideal For
Medium businesses requiring a multi-layered security solution with centralized management.
Small businesses/branch offices requiring an affordable, integrated appliance that grows with their needs.
Small businesses requiring an affordable, integrated security appliance with unmatched ease of use.
Hardware
Model Upgradeable
N/A
Interfaces
8: 10/100/1000 Fast Ethernet
8: 10/100 Fast Ethernet
4: 10/100 Fast Ethernet
DMZs
Up to 6
Up to 6
Up to 2
Security
Application Proxies
HTTP, HTTPS, SMTP, FTP, DNS, TCP, POP3, SIP, H.323, TFTP
HTTP, HTTPS, SMTP, FTP, DNS, TCP, POP3, SIP, H.323, TFTP
HTTP, HTTPS, SMTP, FTP, DNS, TCP, POP3, SIP, H.323, TFTP
Intrusion Prevention (DOS, DDOS, PAD, port scanning, spoofing attacks, address space probes, and more)
Wireless Guest Services
N/A
N/A
N/A
User Authentication with transparent Windows authentication
Performance
Firewall Throughput
1.5 Gbps
1.0 Gbps
390 Mbps
VPN Throughput
260 Mbps
260 Mbps
200 Mbps
Concurrent Sessions
200,000
75,000
25,000
VPN Tunnels
Branch Office VPN Tunnels (Max.)
600
100
35 (Upgradeable to 45)
Mobile VPN with SSL Incl/Max
1/500 with Fireware® XTM Pro upgrade
1/300 with Fireware® XTM Pro upgrade
1/75 with Fireware® XTM Pro upgrade
Mobile VPN with IPSec Client Licenses (Bundled)
400
50
25
Mobile VPN with IPSec Tunnels (Max.)
400
100
75
VPN Authentication
Management
Centralized (Multibox) Management. Optional licenses enable Drag and Drop VPN and one-touch Edge updates.
4-device WatchGuard System Manager license included.
4-device WatchGuard System Manager license included.
1-device WatchGuard System Manager license included.
Networking Features
Dynamic NAT
Static NAT
One to One NAT
VLAN
Optional with Fireware® XTM Pro
Optional with Fireware® XTM Pro
Optional with Fireware® XTM Pro
Policy-Based Routing
Optional with Fireware® XTM Pro
Optional with Fireware® XTM Pro
Optional with Fireware® XTM Pro
WAN Failover
Multi-WAN Load Balancing
Server Load Balancing
Optional with Fireware® XTM Pro
Optional with Fireware® XTM Pro
Optional with Fireware® XTM Pro
Traffic Management/QoS
High Availability
(Active/Passive)
(Active/Active)
Optional with Fireware® XTM Pro
Optional with Fireware® XTM Pro
Optional with Fireware® XTM Pro
Dynamic Routing
Optional with Fireware® XTM Pro
Optional with Fireware® XTM Pro
Optional with Fireware® XTM Pro
VoIP (SIP and H.323) Support
Additional Security Subscriptions
spamBlocker with Virus Outbreak Detection
Optional
Optional
Optional
Gateway AV/IPS with Virus Quarantine
Optional
Optional
Optional
WebBlocker with HTTPS URL filtering
Optional
Optional
Optional
LiveSecurity® Service
90-Day or 1-Year Initial Subscriptions Available
90-Day or 1-Year Initial Subscriptions Available
90-Day or 1-Year Initial Subscriptions Available
Documentation:
WatchGuard X550e
WatchGuard Firebox X Core e-Series UTM Software Suites
WatchGuard Firebox® X550e UTM Software Suite - 1 Year

#WG017446
Our Price: $745.00
WatchGuard Firebox® X550e UTM Software Suite - 2 Year

#WG017589
Our Price: $1,345.00
LiveSecurity Renewal
1 Year LiveSecurity Renewal for Firebox® X550e

#WG017325
Our Price: $335.00
2 Year LiveSecurity Renewal for Firebox® X550e

#WG017326
Our Price: $605.00
1 Year LiveSecurity Gold Upgrade for Firebox® Core X550e


- Includes 24x7 Support, 1 Hour Maximum Response Time, Online Technical Support Tools



#WG017327
Our Price: $525.00
LiveSecurity Service Reinstatement

#WG017109
Our Price: $400.00
Fireware Pro
Watchguard Fireware® Pro for Firebox® X550e


*Includes: Multi-WAN Load Balancing & Sharing, High Availability, Traffic Management, QoS, Dynamic Routing, Maximum SSL VPN Tunnels and more!



#WG017300
Our Price: $300.00
Branch Office VPN Upgrades
Branch Office VPN Option for Firebox® X550e

#WG017324
Our Price: $150.00
Gateway Anti-Virus and Intrusion Prevention Service
WatchGuard Firebox® X550e 1-Year Gateway AV/IPS

#WG017317
Our Price: $670.00
SpamBlocker Subscription
SpamBlocker Subscription For Firebox® X550e

#WG017303
Our Price: $670.00
WebBlocker
Firebox® X550e 1 Year WebBlocker Subscription

#WG017310
Our Price: $670.00
WatchGuard System Manager 8.x Upgrades

WatchGuard® System Manager 8.x - For WSM 8.0 and higher, WSM Upgrade licenses increase the number of devices eligible for Drag and Drop VPN management and multi-box Edge management (Note: These licenses may be "stacked" with each other or with VPN Manager licenses to increase the total number of nodes under management)

WatchGuard System Manager - 5 Device Upgrade

#WG017256
List Price: $795.00
Our Price: $739.00
WatchGuard System Manager - 25 Device Upgrade

#WG017257
List Price: $3,795.00
Our Price: $3,529.00
WatchGuard System Manager - 50 Device Upgrade

#WG017258
List Price: $6,995.00
Our Price: $6,505.00
WatchGuard System Manager - 100 Device Upgrade

#WG017259
List Price: $11,995.00
Our Price: $11,155.00
Mobile VPN - Learn More
Mobile VPN - 5 User License Key

#WG3606
List Price: $275.00
Our Price: $255.00
Mobile VPN - 10 User License Key

#WG3607
List Price: $525.00
Our Price: $488.00
Mobile VPN - 20 User License Key

#WG3608
List Price: $795.00
Our Price: $755.00
Mobile VPN - 50 User License Key

#WG3611
List Price: $995.00
Our Price: $925.00
WatchGuard Training Courses - Learn More
WSM/Fireware Basics and VPN Training 3-Day Course


-Includes comprehensive course materials and certificate of completion. Please specify selected course date in the checkout comments section.

#WGTRAINING-1
Our Price: $2,385.00